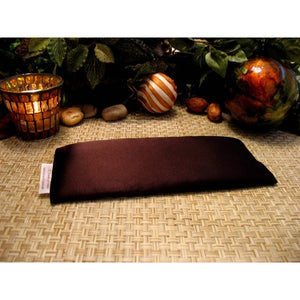 Chocolate brown eye bag. Unscented and filled with organic flax seed. 
Choose organic lavender buds or organic peppermint leaves for scented, relaxing meditation. 
Size is 4" x 9"
Handmade by A Touch of Satin in the USA!
Made with smooth charmeuse satin.

A clear gift box is included.
The perfect weight of the flax seed applies gentle acupressure to your temples, cheeks and eyes.

When the eye bag is kept in the freezer, the cold flax seed will bring down swelling in the sinus area, fatigued eyes as well as symptoms of menopause (including hot flashes).
Lavender has a soothing, calming effect for those people suffering from mild depression, anxiety, stress and insomnia.

Peppermint is beneficial to people with migraine and sinus headaches. Peppermint is a natural decongestant.
*Organically grown means it has not been treated with any synthetic pesticides or synthetic fertilizers.
Do not place in microwave! Doing so will damage the satin material.