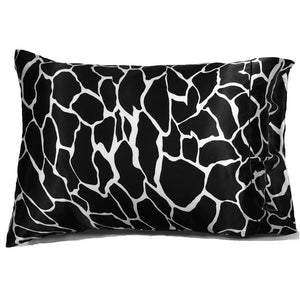 Black and white giraffe satin pillow case. Made from luxurious charmeuse satin. Finished with beautiful French seams.
Washable, dryer safe.
A beautiful, bold African safari print to make your bedroom pop! 
Handmade by A Touch of Satin in the USA!
Help your hair and skin to retain vital moisture and oils so necessary to give your hair that healthy shine and feel.

A French seam finish is a strong, professional seam that encloses the raw, unfinished fabric edges within the seam itself, prevents fraying, and creates a clean and elegant look.
Satin pillowcases are recommended by dermatologists and renowned hair stylists. The American Cancer Society recommends satin pillowcases.
We do special order pillowcases!