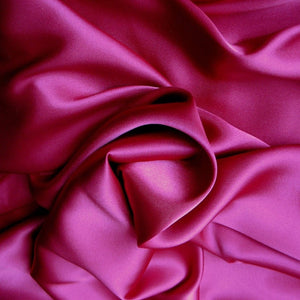 Magenta satin pillowcase. Made from luxurious charmeuse satin. Finished with French seams.
The color Magenta assists in creating balance and harmony in all aspects of your life. It represents compassion and kindness.

A Touch of Satin Pillowcases Are EASY CARE.
What I mean by that is, they are machine washable and safe to put into your dryer. When the pillowcases are dry you remove them from the dryer and simply put them back on your pillows. I have very easy washing and drying instructions which are printed into each pillowcase label. As I said, "Easy Care".
Silk pillowcases should be hand washed, possibly a few times, then rinsed by hand, then they need to be laid out flat to dry and not in direct sunlight. Silk pillowcases can never be put in your dryer. This sounds like High Maintenance.
A Few Benefits of Sleeping on My Charmeuse Satin Pillowcases.
My charmeuse satin pillowcases help fight wrinkles, fine line creases, frown, and smile lines. 
They help split ends, frizzes, bedhead, tangles and minimize hair breakage. My pillowcases especially help color treated, chemically processed, curly and dry natural hair as well as fragile hair follicles because of alopecia.
A Touch of Satin pillowcases also help you retain vital moisture and oils so necessary to give your hair that healthy shine and feel and your skin, that radiant glow.
Because the pillowcase is luxuriously smooth, it causes less friction, so your hair glides across the charmeuse satin, which also protects your eyelashes and eyebrows. This also makes it much gentler on your face and neck, especially on sensitive skin conditions such as rosacea and eczema.
You will have a better, more restful sleep so you can wake up feeling refreshed, and well rested.
Show some self-love and treat yourself to a set of A Touch of Satin pillowcases today.
Face life's challenges knowing you are looking and feeling your best!!
What About the Quality of My Products?
I am A Touch of Satin. I hand make every single item that I sell. There aren't 50, 100, 500 people working in some plant making anything for me.
There are companies that say they're handmade then say "another" company has "helped" them in manufacturing. "Helped"? What does that even mean?
I've been making my sleep and relaxation products for over 15 years.
I am meticulous in the way I measure my material and the way the stitches look on all of my products. I have remade items simply because I just wasn't happy with the way a few stitches looked. I'm quite sure my customer wouldn't have had a problem with it and in most cases probably would never have even noticed, but I noticed, and it matters to me.
I will not ship any of my sleep and relaxation products if they are not perfect!
There is a great deal of pride and caring that goes into everything I make.
That is why, not once in the 15 plus years I have been in business has an item been sent back to me because of any defect or flaw in quality or workmanship. Not one. I don't believe there are many companies that can make that statement.
I believe that tells you all you need to know about the quality of my A Touch of Satin products.
I am A Touch of Satin and proud to say that everything I sell is handmade by ME in the USA!
Here Are a Few, A Touch of Satin Reviews.
Beautiful. Absolutely worth the money. I have curly hair and it's preferable to have a non-cotton pillow case with some slip that won't snag your curlies, and I was looking for something functional and luxurious. This was perfect. The green I got is so rich. Unfortunately, my black silk sleep mask seems to stain the pillow case at night, but it washes right out in the washer. 10/10!
Michelle B., Arlington, VA
The pillowcase fabric is elegant and more beautiful than in the photo. A Touch of Satin offers quality items delivered quickly.
Avery C., Taos, NM
"The pillowcases arrived yesterday, and I was astounded!  They are even more beautiful than I had anticipated.  I put one on my pillow last night and was amazed at how wonderful it felt.  It was so gentle on my hair, so soft on my face.  I never knew pillowcases could be so delightful!"
Luna B.
Palencia, Spain
I thought the set of cases I purchased were really beautiful and of excellent quality! Great communication, customer service and help with your orders! Will be purchasing again, High recommends! A+
Chris R., Bayshore, NY
Absolutely gorgeous! Quality satin pillowcase with beautiful print! Very well made. I will be so proud to give this as a gift to my hard to please sister. She is going to love it! Smooth transaction and quick delivery, too!
Christine G., Laurel, MD
My husband and I sleep with the satin pillowcases every night - they are wonderful!  My hair and skin feel fantastic on them, and after countless washings, they look and feel as good as the day I purchased them.  I also have a travel pillow that I keep in my car - it too has weathered many long road trips and is truly comfortable.
I was pleasantly surprised at the look, feel, and performance of the satin pillowcases and would, without hesitation, recommend them to anyone. Enjoy!!"
Lizette G.
Medford, NJ
What is A French Seam?
A French seam finish is a strong, professional seam that encloses the raw, unfinished fabric edges within the seam itself, prevents fraying, and creates a clean and elegant look.
Satin pillowcases are recommended by dermatologists and renowned hair stylists.
The American Cancer Society also recommends satin pillowcases.
Custom orders are available and encouraged. I love making new, challenging items and sizes!
Choose A Touch of Satin for the ultimate in sleeping comfort! Your hair and skin will thank you each morning! 
Standard Pillowcase Size: 20" x 28"
Queen Pillowcase Size: 20" x 31"
King Pillowcase Size: 20" x 39"
 Thanks for stopping by, come back often and please mention us to your friends.