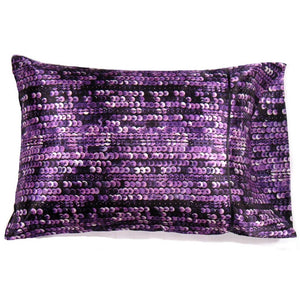 Luxurious charmeuse satin purple and black sequins pillowcase. 

Sofa back, neck support pillow and pillowcase are washable, dryer safe.
Made by A Touch of Satin in the USA!
Pillow is 12" x 16".
They make a gorgeous decorative pillow for any room in the house.
You can purchase the satin pillowcase separately, if you already own a pillow.  
Sofa back and neck support pillow is designed to feel "down filled". Hypo-allergenic.
Use as a boudoir pillow and have the perfect accent pillow to compliment your bed and bedroom. 
Our travel pillows are an absolute "must have" for those long airport delays, especially when traveling with children.