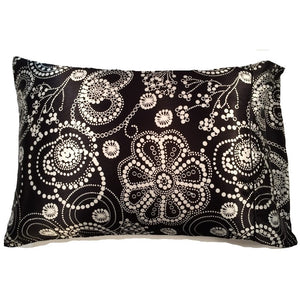 Black with white strands of pearls in the shape of flowers standard satin pillowcase. Made from luxurious charmeuse satin. Finished with French seams.
A stunning and unique floral pattern.
Washable, dryer safe.
Handmade by A Touch of Satin in the USA!
Help your hair and skin retain vital moisture and oils so necessary to give your hair that healthy shine and feel.
They fight wrinkles, split ends, frizzes, bedhead and minimize hair breakage. 

A French seam finish is a strong, professional seam that encloses the raw, unfinished fabric edges within the seam itself, prevents fraying, and creates a clean and elegant look.
Satin pillowcases are recommended by dermatologists and renowned hair stylists. The American Cancer Society recommends satin pillowcases.
We do special order pillowcases!