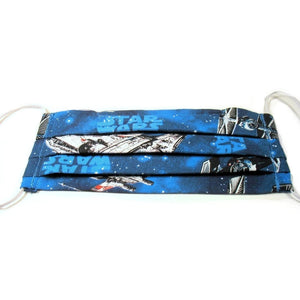 Our Star Wars cotton face masks with nose wire for added protection are made from soft, comfortable cotton. An opening in the back (a pouch) allows a filter to be inserted. A nose wire is sewn into the mask to give a better fit around the nose area and to help the mask fit more securely. This will help prevent the mask from slipping off the nose. One filter is supplied with each mask you purchase.
The mask is completely washable and dryer safe. Do not use bleach!
Premium elastic is made of nylon-spandex material manufactured in USA; soft, stretch, very gentle and comfortable for your skin. Do not iron elastic.
Our fabric is pre-washed, dried and ironed before cutting.
Please note: No return on these items as they are a personal use item that cannot be sold to anyone else once tried on.
This mask is not medical grade.
Do not microwave because of metal nose wire sewn in.
100% Proudly Made by Us in the USA!!