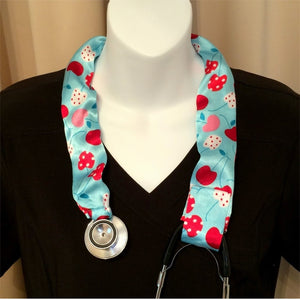 Stethoscope cover is made from soft, smooth charmeuse satin.
Washable and dryer safe! 
Cover has a Velcro closing to keep it in place and elastic on the bottom.
You must be able to remove the bell of your stethoscope to get cover on. 
Handmade by A Touch of Satin in the USA!
A unique and personal gift for doctors, nurses, ET's, LPN's, Veterinarians and people in the medical and healthcare industry. 
Open the Velcro closing and slip your stethoscope tubing through the opening. Remove the bell and pull the tubing through to the end and then replace the bell. 
Protect your hair and skin. The rubber tubing on your stethoscope can irritate your neck and also tangle, catch and pull your hair. The oils from your skin can actually degrade the rubber tubing causing it to crack This beautiful cover protects the tubing from the sunlight which can also damage the tubing over time.
This is an easy way for you and your colleagues to identify your own, personal stethoscope. 
*****The stethoscope is not included****